Bill Gates on Vista and Apple's 'Lying' Ads
Are you bugged by the Apple commercial where John Hodgman
is the PC, and he has to undergo surgery to get Vista?
I've never seen it. I don't think the over 90 percent of the
[population] who use Windows PCs think of themselves as dullards,
or the kind of klutzes that somebody is trying to say they are.
Apple revs up Mac attacks on Vista - CNN.com
Apple (UK and Ireland) - Get a Mac - Watch The New Ads
The UK versions are funnier.
John Hodgman - Wikipedia
Everyones doing a Youtube clone...
video.yahoo.com
Peekvid
Metacafe
LiveVideo
Dailymotion
LeechVideo
Vimeo / Welcome
ClipShack
ZippyVideos
vSocial
Eyespot
LiveVideo.com: Pantyhose Catfight
LiveVideo.com: Baby Almost Kicking Out Of Mothers Stomach
Multi-coloured snow falls over Siberia
Eat The Press | Sarah Silverman, Media Darling
Grindhouse (2007)
Grindhouse Directors Confirm That Both Films Will Have 'Reels' Missing
Grindhouse, Robert Rodriguez, Quentin Tarantino
W. Va. To Use 'Dance Dance Revolution' To Slim Kids
'Warcraft': A world in transition
Decrypting/Ripping - Digital Video Forums
CAVEMAN'S CRIB
Even a Caveman...
digg labs / swarm
digg labs / stack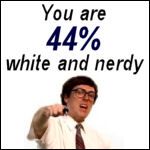 How White and Nerdy Are You?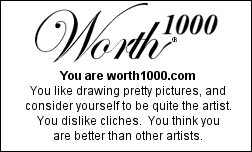 Which Website are You?
Worth1000.com | Photoshop Contests | Are you Worthy™ | home page